Whether you're self isolating or working from home as a result of the Coronavirus pandemic, many of us are spending a lot more time at home than we normally would. While there is obviously a lot to be concerned about, one silver lining is that we get to spend a bit more time with our dogs!
Spending time with dogs can really help to relieve stress, and with so much going on it's important to find time to relax. Even if you can only find a short time each day to spend with your dog it can be really beneficial to both of you. 
If you're stuck inside with your dog and can't get out and about with them as normal, or you need to keep them entertained while you work from home then we've put together some of our favourite enrichment activities that will keep them mentally stimulated, happy and relaxed. 
Scatter Feeding
Scatter feeding is one of the simplest ways to add some enrichment to your dogs day - it's as easy as spreading some of your dog's food on the floor instead of feeding them from a bowl!
Start by scattering some of your dogs food in a small area on the floor (if you feed raw or wet food you might prefer to try this outside!)
If your dog is happy at this stage you can start to spread the food over a wider area. Once they're comfortable searching we can start to make it a little more complex - this could be scattering food when they're out of sight so they really need to rely on their sense of smell, or you might scatter some of the food on different surfaces or in slightly harder to reach places.
It's really important to add in the steps gradually, and always go back to easier levels in between - we want to make sure we're adding fun to their day, not making things difficult or frustrating!
If your dog tends to gobble all their food really quickly this is a great way to slow them down. For dogs that are fussy about their food making it into an interesting game can be a great way to get their interest.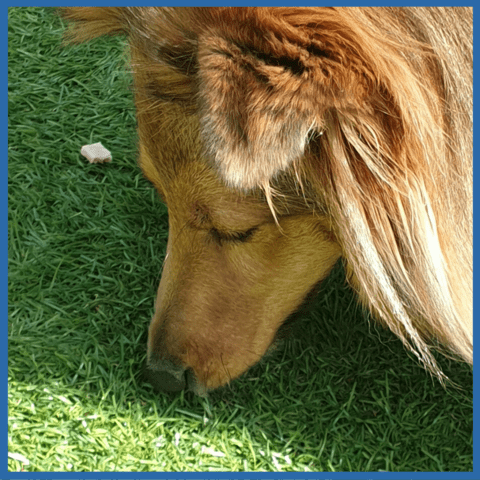 The Muffin Tin Game
This is a great DIY puzzle toy that your dog will love, all you need is a muffin tin and some tennis balls!
Start by putting some food in each compartment of the muffin tin, then cover each section with a tennis ball. Your dog then has to work out how to get to the food by moving the tennis balls!
If your dog prefers tennis balls to food you can try using a high value treat for this game so they're more interested in getting the food than running off with the tennis balls.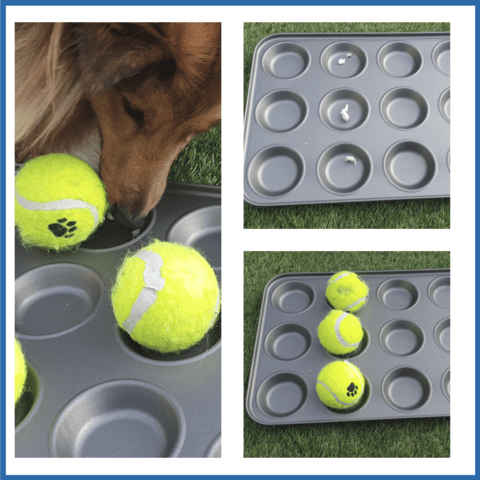 Roll A Towel
Another really fun way to feed your dog is to wrap some of their food in a towel and let them work out how to unroll it!
Start by laying a towel flat on the floor, sprinkle some food over the towel and roll it up.
You'll probably need to help your dog to start with - particularly if your dog is anything like mine and would much rather throw the towel around!
Start by leaving some of the food clearly visible at the edge to the roll so as they go to get it they nudge the towel with their nose causing it to unroll. As the towel unrolls they'll be rewarded with access to more food, and so they're likely to keep trying!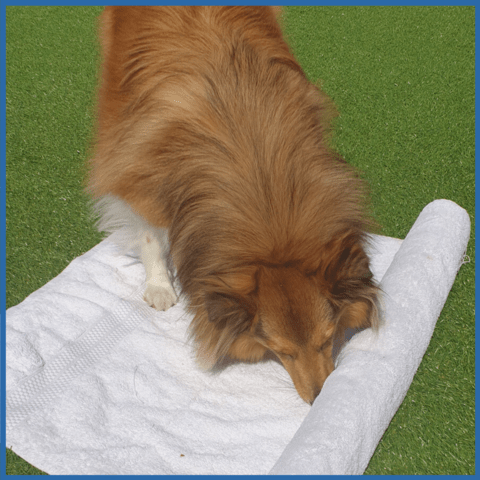 The Cardboard Box
There are so many enrichment activities we can create with a simple cardboard box!
Start by scattering some food inside a cardboard box that's a comfortable size for your dog to reach inside.
If they're happy doing this you can start to add some objects into the box for them to rummage around to find the food. You could use things like the cardboard tubes from toilet/kitchen rolls, some crumpled up newspaper, a few empty plastic bottles, or even some of your dogs toys. Just make sure anything you is clean and safe for your dog, and not something they're likely to try and eat!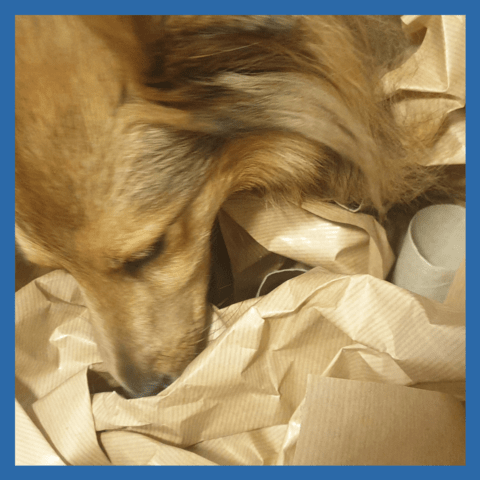 Which hand / cup?
A take on the traditional magic trick that's great fun for your dog - it lets them use their incredible sense of smell to seek out the treat, and is a great way to bond and spend time together too.
Start off by placing a piece of food on the floor then cover it with a cup so that your dog knows the food is underneath. When your dog shows any interaction with the cup - they might touch it with their nose or paw it for example - then remove the cup and reward them with the food underneath.
Once you've done step one, you can add in a second cup. Put the food under one cup again, mix the cups up then let your dog work out which cup the food is under. When they get it right, reward them by moving the cup so they can get the food underneath.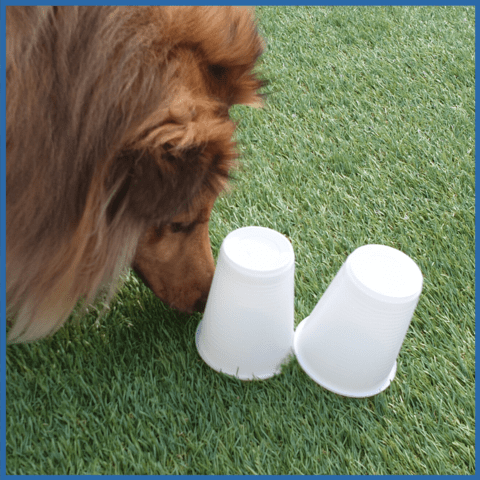 Apples
Just like us, apples are a healthy snack for our dogs too, and can make a perfect DIY food dispensing toy. Really handy if your Kong(s) are in the freezer or the dishwasher!
Simply core an apple creating a large hole through the middle and stuff with your dogs food, or something tasty like doggy peanut butter. As the apple is edible too it makes a great treat for your dog that's perfect for strong chewers that might otherwise destroy food dispensing toys! You can also freeze it before giving to your dog for a longer lasting treat!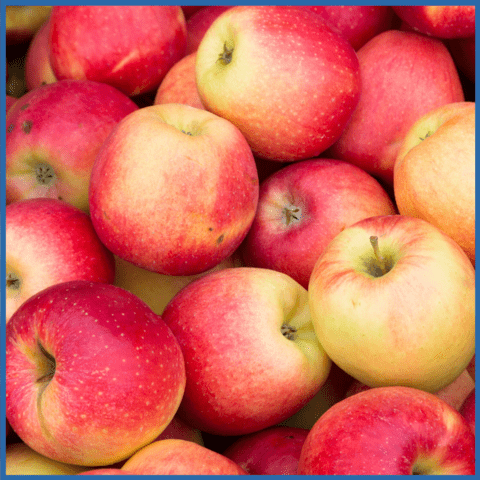 Training
While you've got a bit more time to spend with your dog, it's a great opportunity to learn some new tricks, or work on any training problems you might have. Does your dog tend to bark at people passing the window? Or do they love counter surfing for food? It's the perfect chance to spend some time helping your dog to overcome any problems. 
While many training classes and one-to-one appointments have been cancelled, lots of professional dog trainers are moving their services online so they can still support you through a video consultation. Most dog trainers are self employed and if classes and appointments are cancelled they won't have an income, so if you do need help then reaching out to your local dog trainer can really make a huge difference to them as well as you and your dog.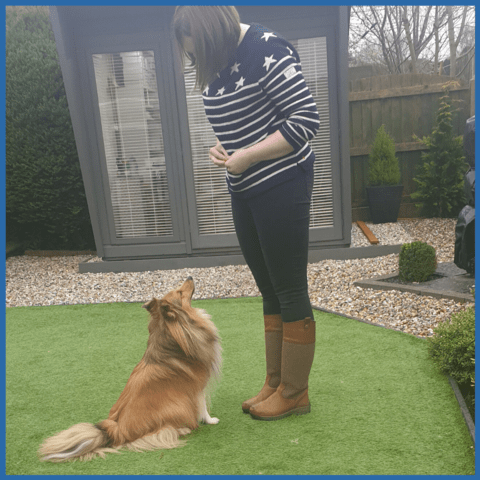 If you're looking for a new toy to keep them entertained, we currently have the brilliant Trixe Snack Popper on offer at just £14.50 (normally £18.99).
Your dog will have so much fun with this toy - it's been thoroughly tested out by our chief product tester Poppy and absolutely loves it!
The snack popper glides along the floor and as your dog pushes it backwards and forwards, they're rewarded by food popping out of the top in all directions! You can find more information here: https://www.cognitivecanineco.co.uk/shop/black-friday-special-trixie-snack-popper-enricment-toy